Mass Morgan Horse Show
CHRISLAR FARM had a great time at the 2014 Mass Morgan Horse Show at the Big E last week. Seasoned riders headed to our Grand National & World Championship Morgan Horse Show in Oklahoma City and New horses coming along made great progress at this one show!!! We are PROUD of all our competitors!!! Every year Mass Morgan Show has a "theme" for decorating stalls .... this year it was ... DR. SEUSS!!!
Taylor Welch & her parents enjoyed her Reserve
Championship Win with "Reinaissance Espionage"!!!
Tori Travers took home the Ladies Hunter Pleasure Class with "Primera Danger-Field"
and Emily Lloyd & "MSV Sein' Double" took home a blue in her western class
More Mass Morgan Horse Show Photos
CONGRATULATIONS to Doreen Gregoire & Rick on their new horse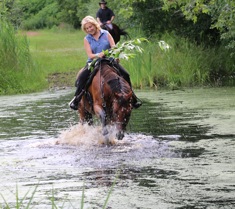 Congratulations to Doreen Gregoire (& Rick), Warren, MA on the new addition to their Family, "JOBOS BOOMERANG" (aka: "Boomer"). You are going to so enjoy trail riding this nice boy all over the place!!! He has been MY first pick for a ride for sure. He is truly a sweetheart!!! Happy Trails!
Maine Morgan Horse Show
Ellen Atkinson & Iron Forge Varsity Blues
Taylor Welch & Renaissance Espionage took home the
AMHA Hunt Seat Medal, Hunter Equitation Championship
More Maine Morgan Horse Show Photos
Friesian/Open Horse Show
Equitation Championship was a CLEAN SWEEP!!!
Taylor Welch, Katie Bartley & Olivia Bingham
Chris and her friend "Colonel"
More Friesian/Open Horse Show Photos
Vermont Morgan Horse Show
TEAM CHRISLAR enjoyed some great rides and a fun time at the Vermont Morgan Horse Show at Eastern States in W. Springfield, MA.
Tori Travers and her parents enjoyed a Championship Ride!!
Olivia Bingham aboard "MEM Virtual Insanity"
More Vermont Morgan Horse Show Photos
Greater Boston Charity Horse Show
TEAM CHRISLAR enjoyed one heck of a Greater Boston Charity Horse Show at the Topsfield Fairgrounds!!! Many new horse/rider combinations attended this as their first show of the season. Great rides by everyone!!!! Special Thanks to Ann Walker & Lynne Pomerleau for heading up this show. Thanks too to everyone who pitches right in to help make things run so smoothly ... truly a "Team Effort" and "Farm Family"!!!
Tori Travers & "Primera Danger-Field"
Natalie Molea, Taylor Welch on "Renaissance Espionage" & Olivia Bingham
More Greater Boston Charity Horse Show Photos
Great Day at the Rowley Riding & Driving Club (RRDC) Open Horse Show
A Very Successful UPHA-14 Spring Premiere Horse Show
Team Chrislar enjoyed a very successful UPHA-14 Spring Premiere Horse Show April 16-19, 2014 at Eastern States Coliseum, W. Springfield, MA. This is the first BIG show to kick off the show season. Particularly proud of our two NEW RIDERS Ally Kennedy-Spencer and Walk-Trot Exhibitor Grace Brenner.
Chris had two BLUE RIBBON rides to start off the show. "Bouke" and Chris won the Opportunity Road Hack Class and came in Reserve in the Championship. Chris also rode "PL Special Blessing" in the Morgan Western Jr/Novice Horse Class.
Ally Kennedy-Spencer took home Res. Championship in the Opportunity Hunter Pleasure Division
Grace Brenner made her debut at this large show aboard "Primera Danger-Field"
in the WT Hunt/Western Division
Back by Popular Demand .... CHRISLAR FARM'S ADULT CAMP!!!
This event was held on two evenings, April 10 & 11th and was headed up by Chrislar's Jackie Medico. It was a large group of adult clients who enjoyed two evenings of socializing, education and hands-on experience. Photos taken by Kevin H (who should have been in some of them).
Chrislar's Open Barn
Chrislar Farm's Open Barn evening was lots of fun!! Met many wonderful people, enjoyed refreshments and demonstrations too! Of course, Chrislar has an OPEN BARN EVERY DAY!!! If you, or someone you know is interested in horses, lessons, training, showing or just having FUN ... please stop in anytime!!!
Chrislar's Afghan Hounds on Animal Planet!!!!
Chrislar's Afghan Hounds CURRENTLY APPEARING on Animal Planet's TV Show "Dogs 101"!!! Each hour long TV segment of this series previews five different breeds ... watch for the segment with the AFGHAN HOUND!!! The shows will rotate throughout the year with re-runs later in the season as well.
Click here to view the show online

"Tasha" having the Doggie Cam installed
Chrislar's Morgan horses in a Ralph Lauren Advertisement
Chrislar's Morgan horses were models in a Ralph Lauren advertisement for the Fall Collection. at the Crane Estate in Ipswich.
See photos and read more about it.
Chrislarwear - great gift idea!
Gift Certificates and Chrislarwear (Windbreakers, Winter Jackets, Winter Vests, and other apparel t-shirts, sweatshirts, golf shirts) make great gifts for Birthdays, Anniversaries and other occasions!!!!
Openings for Private and Group lessons!
Openings have become available for PRIVATE LESSONS due to students graduating into Group Lessons. Group Lessons have openings for riders with some experience!! Great exercise, stress relief, and FUN ACTIVITIES!!!!

Our Staff

Manager: Larry Cassenti. Trainers: Chris Cassenti and Lynne Pomerleau.

Instructor/Assistant Trainer/Caretaker:

Cathy Caruccio, Jackie Medico, Ann Walker, Sarah Keyes, Nicole Grainger.

Farrier: Butch Saunders.

Veterinarian: SRH Veterinary Services.

Dentist: Gary Saccocia.


(Staff biographies)

NEED ADVICE? HAVE QUESTIONS? PLEASE KNOW THAT CHRIS, LARRY & THE ENTIRE STAFF ARE HERE TO SERVE YOU!