Staff Credentials
Chris Cassenti
Chris Cassenti is manager and lead trainer at Chrislar Farm, Rowley, MA. In 1978 Chris and her husband Larry founded Chrislar Farm, which stands today as a modern, 40-stall, state-of-the-art training, boarding, instruction, breeding, and sales business. Chrislar and their "tag line" Stable of Stars hold a Federal Trademark.
This award-winning establishment has been featured on TV Channel 5, Cable TV "The Equestrian", written-up in many equine publications and newspapers, and is featured in the Breakthrough Publications video "Horseman's American Barn Tour" for its efficiency and unique design.
Although Chris is best known for her show-string of Morgan horses, and Equitation Riders, she and her professional staff of trainers/instructors cater to all breeds and riding disciplines. She and her staff at Chrislar have produced hundreds of well trained horses, thousands of satisfied horse people and numerous horse-rider/driver combinations that have won World, National, Regional, State and Local Level Championships.
Many horses and exhibitors from Chrislar in recognition of their accomplishments have been honored with prestigious awards including: "AHSA Horse of the Year", "Peoples Choice", "Judges Choice" and "Beam's Nighthawk's" induction into the Morgan Horse Hall of Fame. Chrislar is extremely proud of the professional trainers, instructors, breeders and exhibitors that began their careers at Chrislar Farm!
Chris is a knowledgeable, well-respected horse show judge holding judges cards with New England Horse Council / NEHC ("J" English & Western Division), and United States Equestrian Federation / USEF, ("R" Morgans & Saddleseat Equitation). Chris served as UPHA-14 Horse Show Chairperson for the annual "Spring Premiere Horse Show" held at Eastern States Exposition in W. Springfield, MA, featuring Morgans, Saddlebreds, Hackney Ponies and Friesians. She is an Advanced Level Massachusetts Licensed Riding Instructor, a member of the American Morgan Horse Association, United States Equestrian Federation, New England Morgan Horse Association, United Professional Horsemen's Association, Chapter 14, New England Horse Council, American Saddlebred Horse Association, and the American Quarter Horse Association. She sits on the Equine Advisory Committee of the Massachusetts Farm Bureau Federation, served on the AMHA Magazine Steering Committee, and served three years as President of the prestigious New England Morgan Horse Association after serving on their Board of Directors for many years.
Chris was a featured clinician at Equine Affair in Massachusetts in 2008, where her sessions on Saddleseat/English Pleasure and Saddleseat Equitation drew a crowd, and also featured at Equine Affair in Ohio in 2009.
In 2006, Chris was voted by her peers as 2006 American Morgan Horse Association (AMHA) WOMAN OF THE YEAR. The AMHA Man & Woman of the Year awards were introduced in 1964. Since then, some of the best-known people in the Morgan breed have been recognized. The award recognizes those men and women who, in the past five years, have made particularly exceptional contributions to the support and preservation of the Morgan breed and the AMHA.
In 2007, Chris was honored with being inducted into the New England Morgan Horse Association's (NEMHA) HALL OF FAME. In 2010, Chris was the recipient of the Tampa Charities Professional Sportsmanship Award in Tampa, FL.
As a guest writer for the Horsemen's Yankee Pedlar, Chris' articles and responses are enjoyed by the readers. She is a well-known guest speaker, panelist and clinician on many horse-related/business topics at various industry venues, such as the annual AMHA Convention and Northeast Trade Show and Conference.
Chris & Larry received the "Persons of the Year Award" by the NEMHA for their efforts in promoting Morgan horses to the general public. Famous horses from Chrislar include: HVK Hot Ember, Primera Danger-Field, KGA Picasso, Hasty's Honor, JBK Buck Dakota and UVM Opportunity. Historical horses from years past include World Champions' Ladys Enticement, UVM Valcour, Beams Nighthawk, Manhatten Design, Successive Endeavors NKS, and Treble's Johnny B Goode.
Chris enjoys a good working relationship with trainers, instructors, breeders and owners across the country and is always eager to share knowledge about business, marketing, sales and trends in the equine industry. Chris also has a genuine interest in educating the general public and potential horse enthusiasts and continuing that educational process to horse owners, who seek the understanding needed to achieve goals and realize the rewards available in the horse industry today.
Chris and Larry have created and operate Chrislar with integrity, safety, a caring and enthusiastic-supportive environment, delivered value, and an all-encompassing horse knowledge as its guiding principles. Visit them at a Horse Show near you, speak with one of their many clients or stop in for a visit and check them out yourself; you'll be glad you did!!
---
Lawrence W. Cassenti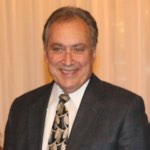 January 2008 to today, Mr. Cassenti holds the position of President & CEO of BSEC Planning Corp., a company he established, offering "Criterra," a specialized software package to evaluate and automatically plan wide area boundary security solutions. February 2010 through June 2012, he was Partner, President and CEO of BSEC's parent, DefenSoft, Ltd. He continues as a Partner of DefenSoft today.
July 2012 to April 2016 Mr. Cassenti is Vice President at Elbit Systems of America (ESA) providing guidance on business development and operations for International Defense and Homeland Security. In this capacity he establishes relationships, develops organizational, technical and financial strategies, and provides support to ESA executives and staff as needed. Previously at ESA he was the senior executive leading these businesses January 2005 through December 2007.
Mr. Cassenti is experienced in leading product design, production, quality assurance, compliances and delivery. He has developed corporate policy and processes, and lead capital management, marketing & sales, proposal and program strategies, human resources, legal, contracts, purchasing, finance and accounting, export/import, security clearances, and internal and external relationship building.
December 2004 through 2007 he was Vice President and General Manager of International Defense and Homeland Security at Kollsman Inc, an Elbit Systems of America (ESA) Company, where he:
Managed the design, manufacture, and integration of thermal imagers, electro- optical day cameras, lasers, pan & tilt platforms, control-display computers, and software systems.
Proposed, negotiated and managed the delivery of fire control systems for tanks and armored vehicles manufactured by Oto Melara/Finmeccanica (Italy), Steyr (Austria), General Dynamics (USA/Canada) and CMI Defense (Belgium) and systems to control TOW missiles for international agencies.
Supported Boeing prime contractor proposal and won a 1st tier team member position to supply surveillance systems to Boeing for the $3 billion SBInet contract to implement technology for USA border security.
Managed P&L at annual revenue of just over $40 million.
Prior to ESA he spent his previous 30 years at Lockheed Martin through acquisition of ACS Defense (previously ASEC). As Vice President, Larry was responsible for the success of numerous high technology projects implemented in the United States and in other countries for Homeland Security and International Defense.
Projects ranged in value from $100 thousand to just under $100 million, with net profits of from 6% to 15%, and performance periods of a few months to several years. Annual revenue from projects was -/+ $30 million over the last 10 years.
Noteworthy Homeland Security projects included:

the security system design and implementation for the World Trade Center Towers in New York City to counter bomb threats,
the Kuwait border security system,
the U.S. Army Corps of Engineers program to secure water resource dams, hurricane barriers and bridges in the New England region of the United States,
technology and policy analysis projects to secure sensitive nuclear materials for the National Nuclear Security Agency and Defense Threat Reduction Agency,
the National Civil Aviation Security Program for all 26 airports in Saudi Arabia,
computer center security for the Kuwait Oil Company, Saudi Arabian Petroleum and Minerals Organization, and Egypt Gas & Petroleum Company,
security systems for the terminals in the three major airports in Pakistan,
security systems for the Amiri Flight Airport and Amiri Guard Palaces in the United Arab Emirates, and
security systems for the Department of State Headquarters.

Noteworthy International Defense projects included:

the design and implementation of satellite and fiber optic long- distance communications systems in Saudi Arabia for the radar based early warning system for the Royal Saudi Air Force,
implementation of numerous LORAN-C and OMEGA navigation system projects ranging from, analysis, test, and validation, to electronics design, manufacturing, integration, and field installation in various States in the USA and in the countries of Canada, Australia, Japan, Norway, Liberia, Argentina, and La Reunion for the US Coast Guard.
Larry was a key executive in the establishment of the Facility Support System Joint Venture, the Saudi American System Engineering Company, and Advanced Defense Systems, Inc, for execution of some of the above projects. He has worked in over 30 countries and 30 States in the USA. He has held security clearances with the Department of Homeland Security, Department of Defense and Department of Energy/NNSA.
After 4 years of service, he left the U.S. Coast Guard with rank of Lieutenant (O-3). For the U.S. Coast Guard he performed as chief engineer on the Global Omega Navigation Transmitting System from 1972 to 1974; and previously he performed as 1st Lieutenant aboard the Medium Endurance Cutter Tamaroa 1971 to 1972.
He obtained a Bachelors of Engineering Science from the University of New York at Stony Brook in 1969; prior to that he attended 2 years of vocational training in electronics, leaving with an FCC license and Electronics Technician Certification. Sept 1978, Larry and his wife Chris founded the Chrislar Farm & Equestrian Center in Rowley, MA, which they still manage today.
View Larry's profile on LinkedIn
---
Kristen Anderson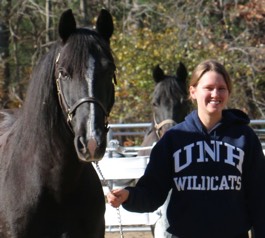 Kristen grew up in New Hampshire and started riding when she was 8 yrs old. Hooked on horses right from the start, Kristen rode everywhere and anywhere she could; she was a volunteer at a local therapy barn who allowed her to ride their horses.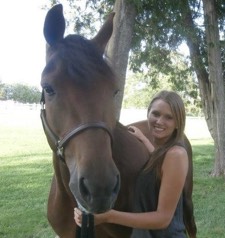 A graduate of University of New Hampshire (UNH) with an Equine Industry & Business Management Degree, Kristen also obtained her MA Riding Instructor's License as part of their college program. She completed a summer internship at the William H. Miner Research Institute in New York where she fell in love with the MORGAN horse!!
After graduation, she was asked to return to NY where she completed a year-long internship at Miner Institute as Assistant Manager of their herd and where she was involved in their horse training program.
When she's not enjoying working with students at Chrislar Farm and assisting with training, Kristen enjoys snowmobiling in the winter and swimming with her black lab, "Sadie" in the summer. Book some lessons with Kristen NOW!!!
---
Cathy Caruccio
Cathy grew up on Long Island, NY graduating with a Plant Science Degree from SUNY at Cobleskill NY. So, those nicely decorated, floral and Christmas arrangements you see at our entrances were all created by Cathy! She has always loved horses, all animals and the great outdoors.
Cathy is a long time member of the Chrislar Family enjoying each and everyone who comes through our doors and holds a MA Instructors License. In addition to her daily care of all the horses at the Farm, and assisting with the training horses, Cathy loves teaching her students and preparing them for participation in Farm activities and the RRDC Shows.
She is an avid pet lover and ... you guessed it ... has a Yellow Lab named "Cooper" who enjoys taking walks through the woods and running on the North Shore beaches. Away from the Farm Cathy enjoys spending time with her Family at Lake Winnesquam and visiting Family on Long Island. Cathy said she enjoyed hiking but not with Lynne or Carol (inside joke).
---
Nicole Grainger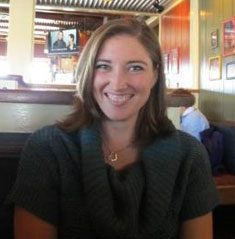 Nicole grew up in New Hampshire and was born "hooked-on-horses." Nicole showed horses as a youngster including her own Morgans and was connected to Chrislar Farm back then through Alumni Joanne Galvin.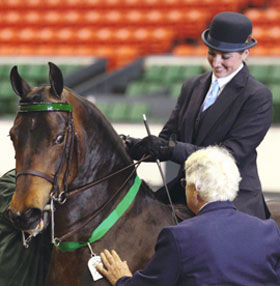 Nicole is a graduate of the University of Vermont with a Bachelor of Science Degree and a major in Animal Science. After graduation, Nicole was employed by the UVM Morgan Horse Farm assisting the Director with the daily operations of the facility, managing employees, apprentice interns and training the young stock for horse shows and sales. She also has experience and assisted with equine reproductive duties at the Farm. In addition to her long time employment at UVM, Nicole has much experience working at other Equine facilities and other breeds. Nicole is an accomplished trainer and instructor in Saddleseat, Hunt Seat, Western and Driving.
In addition to her passion for horses, Nicole is an avid Sports Fan, supporting the Boston Red Sox, Patriots, Bruins, Celtics and more!!
---
Sarah Keyes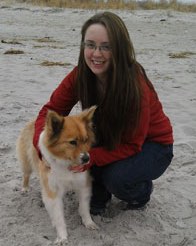 Sarah is a long time, Loyal Chrislar Fan! In addition to daily care of our horses, Sarah assists with training and is a fabulous Riding Instructor. She grew up at Chrislar …. Literally!!! As a toddler, her Dad brought her to the Farm daily to spend time with the horses and donkeys. When she was 8 yrs old she started lessons and the rest is "History"!!! Sarah competed on the show circuit under the Chrislar Banner, and assisted part time with training, lessons and care throughout the years. She is the epitome of what the "Chrislar Experience" is all about!!!
Sarah is a graduate of Essex Agricultural School with a concentration in Agribusiness and Although Sarah had part time jobs at other horse facilities over the years as a horse show groom, caretaker, and exercise rider, she was also employed as a professional Dog Groomer. To say she loves animals is quite an understatement as she has two dogs and three cats of her own, in addition to some birds, and other "critters."
Be sure to schedule some lessons with Sarah!!!
---
Deb Nichol
Deb began her love of horses at a very young age at her great grandfather's farm where her passion for horses . Through her childhood and her life she was able to ride and work at several horse farms, enjoyed friends with the same interest and eventually owned her own horse with the support of her Family. Deb moved to Massachusetts and in 2006 found her way to Chrislar Farm where she immediately became part of the "Family"!! Actively involved in the lesson program and horse shows over the years, Deb became interested in sharing her knowledge with up and coming young riders. Deb volunteers at Ironstone Farm in their therapeutic riding program, She is a MA Licensed Instructor at Chrislar and totally enjoys teaching and enjoying her BFF "Landry"!!!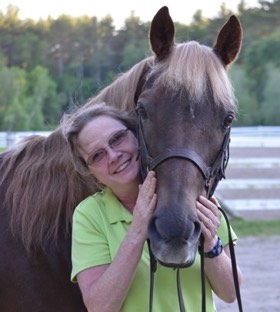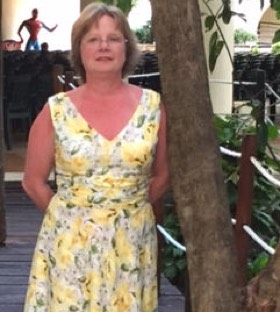 ---
Lynne Pomerleau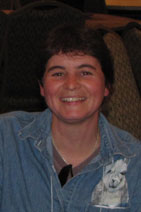 In 1979 Lynne first came to Chrislar for riding lessons. She grew up at the Farm with hands-on training in many areas of horse care, training, showing, medical treatment, teaching lessons and office procedures and administration.
Today she is the Staff Manager, responsible for the day-to-day operations of our large facility including overall care of 40 horses, training horses, accounting, operation and maintenance of the facility and vehicles.
As a natural and passionate "animal person," Lynne is amazing to watch working with horses in her own calm and effective manner; she is able to form a mutual trust and bond with even the most difficult horse and situation. She is an accomplished horsewoman starting horses in harness and under saddle in many disciplines, with a successful show ring career as well. She holds a MA Instructor's License, is a member of USEF, AMHA and UPHA-14.
Thirteen years ago Lynne developed a passion for Llamas and became a founding partner in establishing Harmony Hill Llama's in Groveland, MA, breeding, showing and developing an expertise with these unique creatures. In addition to llamas she bred, raised and sold Pygmy Goats. She is active in the Greater Appalachian Llama & Alpaca Association serving two years as President.
Lynne enjoys building and repairs and has volunteered working with Habitat for Humanity and Rebuilding Together, associations helping to build homes and assist with home repairs. Away from the Farm, Lynne enjoys snow shoeing and hiking with "Rosie" her rescued Nova Scotia Duck Tolling Retriever. She enjoys sports, woodworking, landscaping, gardening, fixing anything (and she's good at it too!) riding her motorcycle and spending time with her niece and nephew. Lynne likes to learn something "New" each and every day!!!
---
Ann Walker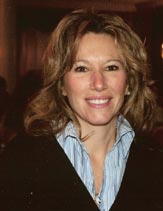 Ann grew up riding and showing horses as a youngster and spent most of her life working with horses. A graduate of the Equine Studies Program from Post College, she entered the business world holding an administrative office position for many years. She left her corporate job to follow her passion...HORSES!!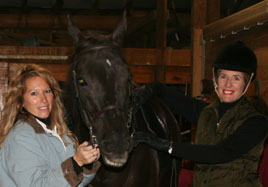 Ann has been part of the Chrislar Family for eighteen years as an instructor, trainer and competitor. Ann is a MA Licensed Instructor, actively involved in preparing students for the Show Ring. She has experience in Saddle Seat, Hunt Seat and Western styles of riding and training.
In addition to her students and horses, Ann may also be found part time in the Farm's Office at the computer performing administration and accounting duties. Away from the Farm Ann enjoys vacationing, her friends, skiing, her pets (2 cats, 2 dogs, 1 horse) and her Family (2 children, 1 husband, her parents and brothers).
---
Chrislar Staff at RRDC 2013 Awards Banquet (left to right)
Nicole, Cathy, Ann, Larry, Chris, Lynne & Sarah (Jackie was unable to attend).
---
Chrislar's "extended familiy"
No riding, boarding and training stable is complete without the highly competent care of a reliable Farrier, Veterinarians and an Equine Dentist. These trusted profesionals have been part of the "Chrislar Staff" for many years!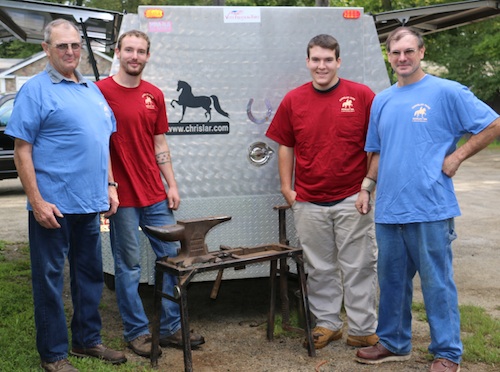 Farriers Butch Saunders, Pat Saunders, Sean Saunders & Joe Saunders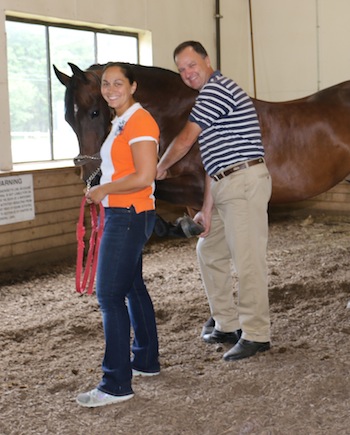 Dr. Mark Holman, Boston Equine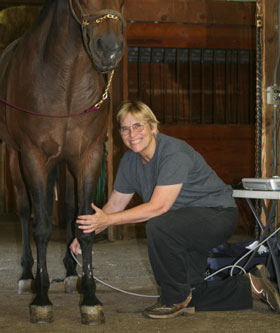 SRH Veterinary Services
Helen Noble VMD (above)
Robert Orcutt DVM
Dr. Derek Cavatorta (below)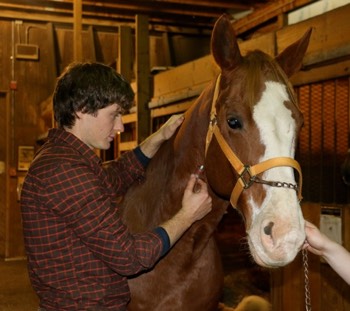 Gary Saccocia - Equine Dentist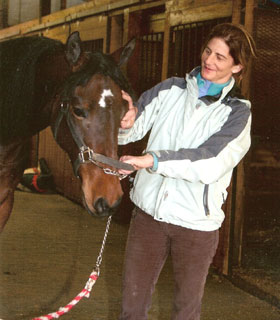 Mary Kahan, DVM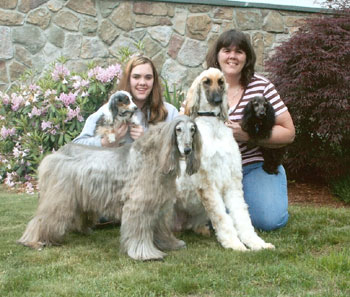 Professional Dog Groomer Bonnie Ross and daughter Michaele with Tasha, Charlotte, Walker and Wolfie!! Bonnie has been grooming our "pooches" since 1986!!!!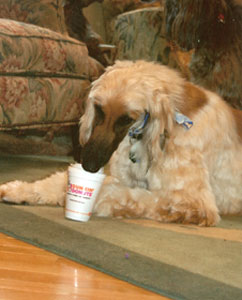 Walker on his coffee break!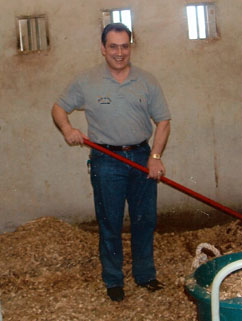 Larry pitches in at the Tampa show!